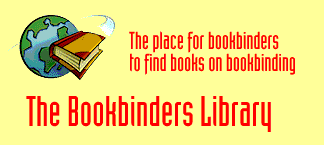 Last updated 10 June 2016 11:06 NZST
Each of these books has a useful place in the bookbinder's library. If you'd like a closer look at one of the titles, check with your local library or bookbinders association, or buy your own from Amazon.com or Abebooks.com.
I refer to these books for bookbinding ideas, advice and reminders on technique. This is only the tip of the iceberg, of course. Useful information can also be gleaned from books on book-collecting, printing, papermaking, leatherwork and the repair and conservation of library materials.
Sometimes I also get useful ideas for traditional work from illustrations in Sotheby's and Christie's auction catalogues, and for more modern work from the exhibition catalogues and publications of Designer Bookbinders in London.
If you want to find more books on bookbinding or related subject areas, try searching the category 'Books' on Amazon.com using the keyword "bookbinding".
If the book you want is no longer in print, or you are looking for a used copy, then you should visit Bookfinder. This completely free service is provided by Anirvan Chatterjee, and allows you to search all the major second-hand book search engines on the Web for out-of-print and used books. Another source for new and used books is of course Abebooks.com, although if you're ordering from New Zealand (like me) make sure you compare delivery costs from different providers, as they can vary widely. You can also compare book prices across more than 100 bookstores online at Sarah Smith's www.easybooksearch.com

And fresh on the scene is a search tool recently announced by the International League of Antiquarian Booksellers (ILAB), representing about 2,000 leading antiquarian dealers worldwide. The best antiquarian books, manuscripts, maps, prints and autographs can now be traced and ordered online, thanks to a sophisticated new search engine -- the only one in the world which provides full text-search including 28 special characters such as the Scandinavian ä, the French ç, the Spanish ñ, the German ß, and the Portuguese õ. You can find the search engine on ILAB's Internet web site at www.ilab-lila.com.
---
A. BOOKBINDING CATALOGUES & EXHIBITIONS
A Guide to the Exhibition in the Kings Library. British Museum, London. 1939.
A splendid introduction to the history of printing, music printing and bookbinding, from the collection of the British Museum. Includes such treasures as the first edition of The Workes of Geffray Chaucer, The principall Nauigations, Voiages and Disoueries of the English nation by Richard Hakluyt, and Edmund Spenser's The Faery Queene.
Bookbinding in Great Britain. Sixteenth to the Twentieth Century. Catalogue 966. Summer 1975. Maggs Bros Ltd, London. 1975.
An extensive collection of period English, Scottish and Irish bindings, including the work of English provincial binders, and a number of fine English Restoration bindings. Two of the 20th century bindings illustrated are by Edgar Mansefield, a New Zealander who exerted great influence on bookbinding in Great Britain through the middle years of this century through his teaching, his writing and his bindings.
Harthan, John P. Bookbindings. Her Majesty's Stationery Office, London. 3rd edition. 1986.
An introduction to the historical craft of bookbinding, together with a broad survey of the collections of the Victoria and Albert Museum. The National Art Library contains more than 70,000 books, pamphlets, exhibition catalogues and periodicals, and is the oldest art library in the world. If you plan on visiting the Museum, make sure you see the very fine 18th century library bookcases designed by Robert Adam from Croome Court.
---
B. HISTORICAL STUDIES

Marks, P.J.M. The British Library Guide to Bookbinding: History and Techniques. British Library. 1998.

An introduction to the history of craft bookbinding, from the introduction of the codex (1st cent. A.D.) to the present day. Focus on Western bookbinding tradition, and written in an accessible style. Companion volumes on history and techniques of book production published by The British Library cover writing and scripts, and printing.

Middleton, Bernard C. A History of English Craft Bookbinding Technique. The Holland Press, London. 3rd supplemented edition. 1988.

This is a great book, covering historical variants and sensibly organised by structural element. I have found the section on endpapers particularly useful in the past (especially in the construction of zig-zag endpapers). The hardcover edition currently in print is the 4th edition, published in 1996.

Middleton, Bernard C. Recollections -- A Life in Bookbinding. Oak Knoll Press. 2000

The long-awaited autobiography of Bernard Middleton, renowned book restorer, binding scholar and international lecturer on bookbinding techniques. Originally published as a fine press book by Henry Morris at the renowned Bird & Bull Press, the author has expanded the text and added many illustrations of his most inspired bindings. In this new edition over 90 of his bindings are illustrated, 46 in full color. If you can't get it from Amazon.com, go straight to Oak Knoll Press. Available in the UK from The British Library.

Szirmai, J.A. The Archaeology of Medieval Bookbinding. Ashgate Press. 1999.

This substantial volume surveys the evolution of binding structures from the introduction of the codex two thousand years ago to the close of the Middle Ages. Physical aspects of construction from each period are presented over ten chapters. The book is illustrated with over 200 drawings and photographs, and contains a comprehensive bibliography. At US $149.50 from Amazon.com, this book is not cheap. Ashgate Press offers the same volume at 15% discount for online sale.
---
C. BOOKBINDING TECHNIQUES

Guild of Book Workers Journal. Volume XXXv, Number 2, Section A. 2000.

I obtained a copy of this journal whilst a member of the US-based Guild of Book Workers in 1999. The journal contains articles originally published in the Binders Guild Newsletter in 1998. The article by Dag-Erenst Petersen on wooden boards is particularly useful.

Guild of Book Workers Journal. Volume XXXv, Number 2, Section B. 1999.

The journal contains illustrations and descriptions on bindings by the Lone Star Chapter of the Guild of Book Workers, and comprises the Second Exhibition of Members' Bindings.

Ikegami, Kojiro. Japanese Bookbinding. Weatherhill. 1986.

Subtitled "Instructions from a Master Craftsman", this useful book covers many traditional Japanese formats in addition to the stab sewn/side sewn format most commonly associated with Japanese bindings.

Lewis, Roy Harley. Fine Bookbinding in the Twentieth Century. Arco Publishing, New York. 1985.

This book was referred to in a discussion on moulded leather bindings in the Book-Arts_L, and contains examples of the technique by Tony Cains and Edgar Mansfield. Currently out of print, although you can find a copy using Bookfinder or ask Amazon.com to locate it for you.

Mitchell, John. A Craftsman's Guide to Edge Decoration. Standing Press. 1993.

Produced by a highly respected book binder and finisher, now retired, this book covers a range of edge decoration techniques, including edge painting, gilding and gauffering. I can't find this book in Amazon.com, but you may find it second-hand.

Smith, Keith. Volume I Non-Adhesive Binding: Books Without Paste or Glue. Visual Studies Workshop Press, Rochester, NY. 1995

I have to confess I don't own this or the following works by Keith Smith, but I've had the opportunity to examine copies for sale by the New Zealand Book Arts Society. This paperback volume provides an introduction to handbinding and presents more than 30 non-adhesive bookbinding techniques, with illustrations and photographs.

Smith, Keith. Volume II Non-Adhesive Binding: 1- 2- & 3-Section Sewings. Visual Studies Workshop Press, Rochester, NY. 1995.

Over 100 different sewings, again with photographs. Some of these seem overly elaborate to me, but chacun a son gout, as they say.

Smith, Keith. Volume III Non-Adhesive Binding: Exposed Spine Sewings. Keith Smith Books, Rochester, NY. 1995.

This paperback volume extends the sewings in Volumes II and III to the sewing frame. Some of the illustrations can be tricky to follow.
---
D. REFERENCE WORKS

Carter, John. ABC for Book Collectors. Grenada Publishing, London. 6th edition. 1980.

In-depth descriptions of every aspect of book collecting and bibliography, presented in over 450 alphabetical entries. This edition was revised by Nicholas Barker, editor of The Book Collector and a friend of the author, and published shortly after the author's death. Amazon.com currently offers the seventh edition, published by Oak Knoll Press.

Collins, F. Howard. Authors' & Printers' Dictionary. Oxford University Press. 10th edition. 1956.

An "invaluable guide" for authors, editors, printers, correctors of the press, compositors and typists. Also a useful authority on bookbinding and printing terms. Now sadly out of print, although Amazon.com will attempt to source a copy for you.
---
E. GENERAL INSTRUCTION MANUALS

Cockerell, Douglas. Bookbinding and the Care of Books. Pitman, London. 5th edition, revised. 1978.

The classic on hand bookbinding, first published in 1901. This edition contains an Appendix written by the author's son, Sydney Cockerell. The paperback edition currently in print was published by Lyons and Burford in 1991.

Cockerell, Douglas. Stage I: Binding books of one section. Bookbinding as a School Subject Series. Cockerell Bindery. Undated.

Cockerell, Douglas. Stage 2: Binding books of more than one section in cloth. Bookbinding as a School Subject Series. Cockerell Bindery. Undated.

Cockerell, Douglas. Stage 3: Cutting edges and binding in half and whole leather. Bookbinding as a School Subject Series. Cockerell Bindery. Undated.

Cockerell, Douglas. Stage 4: Lettering and simple tooling. Bookbinding as a School Subject Series. Cockerell Bindery. Undated.

Cockerell, Sydney M. Stage 5: Marbling paper. Bookbinding as a School Subject Series. Cockerell Bindery. Undated.

These notes for schools contain excellent advice for bookbinders of all ages. I have an illustrated price list produced by G.W. Russell & Son Ltd, self-styled "specialists in educational handiwork", which states that the pamphlets were originally written for the firm by Douglas Cockerell "and published by them at 6d. each".

Cockerell, Sydney M. The Repairing of Books. London: Sheppard Press. 1958.

The son of the great Douglas Cockerell, Sydney eventually became head of the firm of Douglas Cockerell and Son. My copy came from J Hewit & Sons.

Diehl, Edith. Bookbinding: its background and technique. Dover Publications. 1985.

This guide was recommended by a correspondent from Wisconsin. If you have any other manuals or guides that you have found useful, let me know!

Johnson, Arthur W. The Practical Guide to Craft Bookbinding. Thames and Hudson, London. 1985.

This book is now out-of-print, but Amazon.com will conduct a second-hand book search for you if you want. You might also find the Thames and Hudson manual by the same author useful. The diagram illustrating double cord sewing for flexible bindings is likely to pull the cords apart rather than together, so be warned!

Lhotka, Edward R. ABC of Leather Bookbinding: A Manual for Traditional Craftsmanship. Oak Knoll Press, Newcastle, DE. 2000.

A step-by-step guide to fine leather bookbinding, as taught to the author by the English bookbinder Alfred de Sauty.

Smith, Keith and Fred Jordan. Bookbinding for Book Artists. Visual Studies Workshop Press, Rochester, NY. 1998.

According to the author's own posting to the Book Arts mailing list, the book "presents a simple approach to binding a book in cloth or leather", with household tools substituted for traditional binding equipment. The book is also available in sheets direct from the author.

Town, Laurence. Bookbinding by Hand, for Students and Craftsmen. London: Faber and Faber. 1951.

The author was a Lecturer in Crafts at St John's College, York and containes his own, hand-drawn illustrations. My copy came from J Hewit & Sons.

Zeier, Franz. Books, Boxes and Portfolios: Binding, Construction and Design. Design Press. 1990.

Step-by-step guide to making boxes, portfolios, book covers, photographic albums, matts and sewn and adhesive-bound books. Recommended for beginners.

Webberley, Marilyn and JoAnn Forsyth. Books, Boxes and Wraps. Bifocal Publishing. 1995.

This book came recommended by a Book-Arts_L correspondent, who regards it as "the best on the subject". Includes black and white illustrations.
---
F. BOOK REPAIR & CONSERVATION

Carlson, Lage et al. Boxes for the Protection of Books: Their Design and Construction. Library of Congress, Collections Services, Preservation Directorate, Washington DC. New revised edition 1994.

Originally published in looseleaf form, and designed to meet the needs of curators, museum technicians and curators in US libraries and archives who require a practical method for the construction of protective boxes. This publication is now available as a reprint in a spiral binding from Diane Publishing Co., Suite 3, 330 Pusey Ave, Collingdale PA 19023.

Johnson, Arthur W. The Practical Guide to Book Repair and Conservation. Thames and Hudson, London. 1988.

Good solid advice with clear illustrations. This book is also out-of-print, but Amazon.com will conduct a second-hand book search for you if you want.

Middleton, Bernard C. The Restoration of Leather Bindings. American Library Association, Chicago. 1984.

Very strong on "in-period" repair and restoration, but including arguments for sympathetic rather than strictly accurate restoration. The hardcover edition currently in print was published early in 1998.

Young, Laura S. Bookbinding & Conservation By Hand: A Working Guide. Oak Knoll Press, New Castle, DE. 1995.

This book was referred to me by Betty Storz for information on use of loose guards to avoid tipping in (and subsequent strain on) the first flyleaf of a book under repair. The latest edition is in paperback, but hardcover editions may be available from second-hand dealers.
---
G. BOOK ARTS

Smith, Keith. Structure of the Visual Book. Keith Smith Books, Rochester, NY. 1995.

This is an introduction to the book as visual object. To quote the author, "this is a book on concepts, not how to bind".

Smith, Keith. Text in the Book Format. Visual Studies Workshop Press, Rochester, NY. 1989.

As Structure of the Visual Booksuggests how pictures can be organised in book format, so this volume shows how text can be presented as pages in time. It's another concept book, this time for writers and artists working with words.
---
Discover Bookbinding | Go Surfing | Meet Chris Lipscombe | Back to Red Eye
Tested for Netscape Navigator 2.0 and Internet Explorer 2.1 or later. Send mail to Chris Lipscombe Created by Chris Lipscombe © 1996-2016 Red Eye Marketing