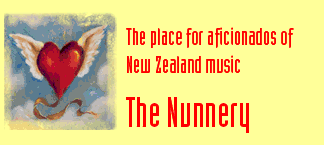 Last updated Wednesday 15 June 2016 23:07 NZST
As almost every New Zealander knows, Flying Nun was an independent music label based in Christchurch New Zealand through the 1980s (the label moved to Auckland with its founder Roger Shepherd in 1988) and famous for popularising 'the Dunedin sound.' Many of us grew up to the sound of jangly guitars recorded on Chris Knox's 4-track. Tracks by The Clean, Verlaines, The Chills and The Double Happys are an essential part of our collective history.
In the early days (1981-85) I was Wellington distributor for Flying Nun Records, helping out my friend Hamish Kilgour of The Clean who was paying the rent by working in the Flying Nun warehouse in Christchurch. If you ever went hunting for new Flying Nun releases at Chelsea or Colin Morris Records, or played Flying Nun 45s on the juke-box at City Limits (now Apache, previously FINC), it was me and my small team of volunteers that put them there.
I still have a few band posters from that heady time. To view each poster in its full glory, click on one of the thumbnails below. I've also included a list of Flying Nun singles and EPs that I have in my collection, along with some albums (they were more expensive and time-consuming to produce, and so there weren't that many of them in the early days). Some of the later EPs and albums are UK pressings (under the FNUK label), purchased while I was living in London from 1986 to 1991. While I was there I wish I had picked up a UK pressing of the Tuatara album though, as I had worked with Rough Trade in London on the UK release as my final contribution to the Flying Nun label.
---
A. FLYING NUN SINGLES

The Clean

Tally Ho! 1981
7″ single, b/w offset outer sleeve

Bill Direen

Schwimmen in der See 1982
7″ single, b/w offset outer sleeve

Bill Direen

Soloman's Ball 1982
7″ single, b/w offset outer sleeve

Mainly Spaniards

That's What Friends Are For 1982
7″ single, blue offset on pink outer sleeve

Sneaky Feelings

Amnesia 1982
7″ single, colour screenprint outer sleeve

The Chills

Rolling Moon 1982
7″ single, colour offset outer sleeve

Verlaines

Death and the Maiden 1983
7″ single, b/w offset outer sleeve

Children's Hour

Ya! Ya! Ya! 1984
7″ single, printed insert, b/w offset outer sleeve

Double Happys

Double B Side 1984
7″ single, colour offset wraparound sleeve

The Chills

Doledrums 1984
7″ single, colour offset outer sleeve

The Expendables

Flower 1984
7″ single, colour offset outer sleeve

The Jumblies

Stuff of Dreams 1984
7″ single, black offset on blue outer sleeve

Crystal Zoom

Dunedin Sound on 45 1985 7″ single, colour offset wraparound sleeve
---
B. FLYING NUN EPs & LPs

The Clean

Boodle Boodle Boodle 1981
12″ EP, b/w offset outer sleeve

Bored Games

Who Killed Colonel Mustard? 1982
12″ EP, colour offset outer sleeve

Tall Dwarfs

Louis Likes His Daily Dip 1982
12″ EP, printed insert, colour offset outer sleeve

The Builders

Beaten Hearts 1982
12″ EP, b/w offset outer sleeve

The Clean

Great Sounds Great... 1982
12″ EP, colour offset outer sleeve

The Victor Dimisch Band

Native Waiter 1982
12″ EP, black on gold screenprint outer sleeve (I'm pretty sure this was the only cover ever printed on gold)

Various

Dunedin Double EP 1982
2 x 12″ EPs, b/w offset outer sleeve

Children's Hour

Flesh 1983
12″ EP, b/w offset outer sleeve

Fetus Productions

Fetalmania 1983
12″ EP, b/w offset outer sleeve

Marie and the Atom

Yellow Read Aloud 1983
12″ EP, colour offset outer sleeve

Sneaky Feelings

Send You 1983
12″ EP, colour offset outer sleeve

Tall Dwarfs

Canned Music 1983
12″ EP, printed and folded insert, b/w offset outer sleeve

The Great Unwashed

Clean Out of Our Minds 1983
12″ EP, colour offset outer sleeve

This Kind of Punishment

After the Fact 1983
12″ LP, b/w offset outer sleeve

Tall Dwarfs

Hairy Breath Monster 1984
12″ EP, colour offset outer sleeve

The Bats

By Night 1984
12″ EP, colour offset outer sleeve

The Great Unwashed

Singles 1984
12″ EP, colour screenprint on blue outer sleeve (luckily not a vinyl sleeve this time, as the original 45s eventually disintegrated)

The Rip

A Timeless Piece 1984
12″ EP, printed insert on green paper, colour offset outer sleeve

The Verlaines

10 O'Clock in the Afternoon 1984
12″ EP, printed insert, colour offset outer sleeve

This Kind of Punishment

A Beard of Bees 1984
12″ LP, printed insert on green paper, colour screenprint outer sleeve (TKP/distributed by Flying Nun)

Double Happys

Cut It Out 1985
12″ EP, colour offset outer sleeve

Look Blue Go Purple

Bewitched 1985
12″ EP, colour offset outer sleeve

Not Really Anything

Watched a World 1985
12″ EP, b/w offset outer sleeve

Sneaky Feelings

Husband House 1985
12″ EP, colour offset outer sleeve

Sneaky Feelings

Waiting for Touchdown 1985
12″ LP, black on silver offset outer sleeve (produced in the UK)

Tall Dwarfs

The Short & Long Of It 1985
12″ EP/LP, b/w offset outer sleeve

The Bats

And Here Is Music for the Fireside 1985
12″ EP, printed insert, colour offset outer sleeve

The Chills

The Lost EP 1985
12″ EP, colour offset outer sleeve

Various

Tuatara 1985
12″ LP, colour offset outer sleeve

The Chills

I Love My Leather Jacket 1986
12″ EP, colour offset outer sleeve (produced in the UK)

Various

Outnumbered by Sheep 1986
12″ LP, colour offset outer sleeve (BFM/distributed by Flying Nun)

Straitjacket Fits

Life in One Chord 1987
12″ EP, colour offset outer sleeve

The Chills

Brave Words 1987
12″ LP, printed inner sleeve, colour offset outer sleeve (produced in the UK)

The Chills

House With a Hundred Rooms 1987
12″ LP, colour offset outer sleeve

Various

In Love With These Times 1988
12″ LP, colour offset outer sleeve

The Clean

In-a-live 1989
12″ EP, colour offset outer sleeve (produced in the UK)

Straitjacket Fits

Melt 1990
12″ LP, printed inner sleeve, colour offset outer sleeve

The Bats

Fear of God 1991
12″ LP, printed inner sleeve, colour offset outer sleeve
---
Discover Bookbinding | Go Surfing | Meet Chris Lipscombe | Back to Red Eye
Tested for Netscape Navigator 2.0 and Internet Explorer 2.1 or later. Send mail to Chris Lipscombe Created by Chris Lipscombe © 1996-2015 Red Eye Marketing