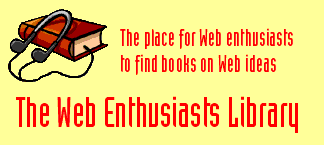 Last updated Sunday 16 July 2000 18:07 NZST
Each of these books has something useful to say about the Web, knowledge management, networks, online communities, e-commerce, communication, or the impact of technology on human beings and the human mind in general. If you'd like a closer look at one of the titles, check with your local library or bookbinders association, or buy your own from Amazon.com.
This is not a list of 'how-to' books. You can find plenty of help on building Websites elsewhere on the Web (try Devhead or Webmonkey for starters). This is more about stretching your brain. I'm forever looking for new sources of inspiration, including daily newspapers, magazines and Websites, as well as writings from sociologists, anthropologists, technologists, economists, marketers, media commentators, popular novelists, polemicists and tub-thumpers of every shape and description.
If you want to find more books on the Web or related subject areas, try searching Amazon.com using the keywords "Web ideas".
If the book you want is no longer in print, or you are looking for a used copy, then you should visit MX Bookfinder. This completely free service is provided by Anirvan Chatterjee, and allows you to search all the major second-hand book search engines on the Web for out-of-print and used books.
---
A. IMAGINATIVE LITERATURE

Bester, Alfred. Tiger! Tiger! Penguin Science Fiction. 1974.

In this remarkable book, first published in 1955, Alfred Bester presents the idea of teleporting and the jumpstation. Available from Amazon.com in a reissued edition 'The Stars My Destination.'

Borges, Jorge Luis. Labyrinths: Selected Stories and Writings. WW Norton & Co. 1988.

An infinitely imaginable library, where every entrance is also an exit... remind you of somewhere? Borges' densely layered imaginistic writing style is the closest you'll get to hypertext in print.

Burroughs, William. Naked Lunch. Grove Press. Reissued edition. 1992.

Written between 1954 and 1957 in a hotel room in Tangiers, Morocco, this infamous foray into the Interzone introduces demons that inhabit all spaces of the mind, and for some, the Web. Not for the squeamish.

Gibson, William. Neuromancer. HarperCollins. 1993.

First published in 1984, this is the book that brought the term 'cyberspace' into popular usage... although the author had already coined the term in his short story 'Burning Chrome'. Gibson's hero Case jacks into the Matrix and enters a world where data is the only reality.

Stephenson, Neal. Snow Crash. Bantam Doubleday. 1992.

The Metaverse offers a huge, sprawling vision of cyber-settlement, complete with customisable avatars. Despite viral attacks, it's the ability of the key protagonists to communicate that keeps the Metaverse from crashing.
---
B. KNOWLEDGE MANAGEMENT

Davenport, Thomas H and Laurence Prusak. Working Knowledge: How Organisations Manage What They Know. Harvard Business School, Boston, MA. 1997.

Covers issues of knowledge management in the context of managing intellectual capital, from two experienced consultants (Laurence Prusak is IBM's competency manager in knowledge management). Good focus on experience, intuition and beliefs -- in other words, the human qualities of knowledge that the Web is still grappling with.

Koulopoulos, Thomas M. et al. Corporate Instinct: Building a Knowing Enterprise for the 21st Century. Van Nostrand Reinhold/International Thomson Publishing Inc, New York. 1997.

Hot on encouraging instinctive response as a determinant of business success. Has links to Kevin Kelly's notions of intelligence and Regis McKenna's emphasis on action in real time.

Nonaka, Ikujiro and Hirotaka Takeuchi. The Knowledge-Creating Company: How Japanese Companies Create the Dynamics of Innovation. Oxford University Press. 1995.

Very good on importance of tacit knowledge, and on processes that convert tacit to explicit knowledge as the basis of informed action. Deliberately vague goals presented as aid to knowledge creation. The key here is not content but communication.

Stewart, Thomas A. Intellectual Capital: The New Wealth of Nations. Bantam Doubleday Dell Publishing. 1998.

Fortune editor shows corporate managers how to find, develop and use employees' specialized knowledge and skills to develop the firm's intellectual capital. Good on creation of communities of practice within and across firms, on development of structural capital using information technology, and understanding of relationships with customers as an additional source of intellectual capital.
---
C. WEB ECONOMICS

Godin, Seth. Permission Marketing: Turning Strangers into Friends, and Friends into Customers. Simon & Schuster, New York. 1999.

A spirited attack on old-style "interrupt marketing", and an argument for asking your customers and prospects for permission to talk to them. Fits with the new economics of attention, where the product (information) is plentiful and the truly scarce resource is the attention of your target audience.

Hagel, John and Arthur C. Armstrong. Net Gain: Expanding Markets Through Virtual Communities. Harvard Business School, Boston, MA. 1997.

Two McKinsey consultants take a lesson from the Web pioneers, and remind us that community has always preceeded commerce. As online communities or networks of consumers develop, so does the worth of those networks -- Kevin Kelly's law of increasing returns.

Hagel, John and Marc Singer. Net Worth: Shaping Markets When Customers Make the Rules. Harvard Business School, Boston, MA. 1999.

Presents the "informediary" as the inevitable consequence of increasing consumer power on the Web. Evan Schwartz pointed to a similar trend in consumer power two years ago, but these guys flip the distribution model on its head, and make the informediary the consumer's retailer.

Kelly, Kevin. Out of Control: The New Biology of Machines, Social Systems and the Economic World. Perseus Press. 1995.

A sprawling, enthusiastic treatise on where we might be heading in the 21st century. The sections on instinctive behaviour as the basis for intelligence are particularly good, and dovetail neatly into Regis McKenna's real-time business imperatives.

Kelly, Kevin. New Rules for the New Economy: 10 Radical Strategies for a Connected World. Viking Press. 1998.

Shows how networks and communications will drive the new economy, to the point of changing how the economy works. As information becomes more plentiful, human attention now becomes the scarce resource. Gives credit to Alvin Toffler for first raising many of the issues considered here.

Schwartz, Evan I. Webonomics: Nine Essential Principles for Growing Your Business on the World Wide Web. Bantam Doubleday Dell Publishing. 1998.

Not at all technical, and focusses on the solid benefits of online business -- customer service, direct sales, dialogue with customers and geographic expansion. Content now a little dated, but conclusions are still sound.

Schwartz, Evan I. Digital Darwinism: 7 Breakthrough Strategies for Surviving in the Cutthroat Web Economy. Broadway Books. 1999.

Just released examination of companies thriving in today's digital marketplace. (For a really interesting look at Darwin, and in particular the soul-searching required of his contemporaries to reconcile scientific enquiry with religious faith, see Mr Darwin's Shooter by Roger McDonald.)

Seybold, Patricia B. customers.com: How to Create a Profitable Business Strategy for the Internet and Beyond. Time Books/Random House, New York. 1998.

"In the electronic commerce world, knowing who your customers are and making sure you have the products and services they want becomes even more imperative than it is in the "real world"... when customers can go anywhere to get what they want, you'd better know what they're looking for."
---
D. MARKETING

David Shepard Associates. The New Direct Marketing. McGraw-Hill. 3rd edition. 1999.

This book is the classic work on the art and science of database marketing. The first edition (published 10 years ago) has been extensively updated to include advances in modelling, statistical analysis, data warehouses, decision support, CHAID, and the use of the Internet to database marketers.

Hughes, Arthur M. Strategic Database Marketing. McGraw-Hill. 2nd edition. 2000.

Sub-titled 'The Master Plan for Starting and Managing a Profitable, Customer-Based Marketing Program', this book is much less daunting than the David Shepard Associates volume and focusses more on effective use of data for businesses. The author, at 74 years young, also does a great seminar!

McKenna, Regis. Relationship Marketing: Successful Strategies for the Age of the Customer. Perseus Press. 1993.

Focussed on developments in the technology sector, but valuable as one of the early expositions of customer-centred (as opposed to product-centred) marketing.

McKenna, Regis. Real Time: Preparing for the Age of the Never Satisfied Customer. Harvard Business School, Boston, MA. 1999

Throws out hierarchy and long term planning in favour of real time management, focussing on delivery, results and meeting customer needs instantaneously. Enthusiasm sometimes clouds insight, but the focus on the instinctive corporation is sound.

Peppers, Don and Martha Rogers. The One to One Future: Building Relationships One Customer at a Time. Currency/Doubleday. 1993.

Selling more products to fewer people is not only more efficient but more profitable. Direct marketing disciplines are applied to a range of one-to-one media, and although this first edition was written in the early days of the Web, the lessons apply equally well today. Wordy in parts, and the libertarian politics can be a little off-putting.

Peppers, Don and Martha Rogers. Enterprise One to One: Tools for Competing in the Interactive Age. Currency/Doubleday. 1997.

One to one marketing principles extended to include Internet technologies and the Web. the authors explain how to harness technology to achieve competitive advantages in customer loyalty and unit margin. They show you how you can tell customers apart, remember them individually, and have them give feedback directly to you. They also display how mass customization technology enables businesses to customize products and services as a matter of routine.

Peppers, Don and Martha Rogers. The One to One Manager: Real World Lessons in Customer Relationship Management. Currency/Doubleday. 1999.

The fourth instalment in their One to One series, and an examination of the actual implementation of so-called customer-relationship management principles in US-based organisations. For a taste of what these books have to offer, subscribe to INSIDE 1to1, the authors' free online weekly newsletter, at PeppersAndRogers@1to1.com. You'll then know whether the books are worth buying!
---
E. SOCIOLOGICAL SPECULATION

McLuhan, Marshall, Quentin Fiore (contributor) and Jerome Agel (photographer). The Medium is the Massage: An Inventory of Effects. Hardwired Publications. 1996.

Ideas about the nature of media, communication and technology, originally printed in 1967 and even more relevant today. Reprint by the book publishing division of Wired Inc.

McLuhan, Marshall and Quentin Fiore (contributor). War and Peace in the Global Village: An Inventory of Some of the Current Spastic Situations That Could Be Eliminated by More Feedforward. Hardwired Publications. 1997.

Depicts a planet made even smaller by new technologies, originally printed in 1968 when the Internet was still only a scientific experiment. Reprint by the book publishing division of Wired Inc.

Reingold, Howard. The Virtual Community. Secker & Warburg. 1993.

Written by an early member of The Well online community, this was one of the first books to document the growth of online communities around the world. The question raised is not whether online communities are real or not (they are), but what the interaction means to the participants. This debate is still central to the development of the Web. Now out-of-print.

Toffler, Alvin. Future Shock. Bantam Books. 1991.

In 1970 the notion that we could find ourselves outpaced by our own technology was a revolutionary observation. Almost 30 years later, this study in how humans deal with rapid technological and social change still has relevance.

Toffler, Alvin. The Third Wave. Bantam Books. 1991.

Following the agricultural and industrial revolution, the information revolution is presented at the third great wave of change in history. Prediction is less powerful than careful observation, however. Good on exploring conflict between industrial and informational modes of behaviour.
---
Discover Bookbinding | Go Surfing | Meet Chris Lipscombe | Back to Red Eye
Tested for Netscape Navigator 2.0 and Internet Explorer 2.1 or later. Send mail to Chris Lipscombe Created by Chris Lipscombe © 1996-2003 Red Eye Marketing